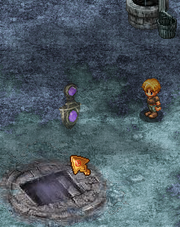 "After defeating the two-headed giant, you return to the village of Arcuz. A strange dungeon entrance has appeared near the old well. Talk to Wayne to learn what happened. Press the space bar to talk to him."
Use the ™›œš™›œš™›œš™›œšWASD or up/left/right/down keys to move, space to talk/investigate, J to attack, and K to jump/cancel.
Talk to Wayne.
Talk to Gran
Buy a weapon, shield and cap, then equip them.
Talk to Wayne
Note: You can purchase more than one weapon, then sell them in Chapter II.
+10 XP, +50 Gold